Description
Wrecker was a clone created on the planet Kamino. Like the rest of his squad, Clone Force 99, Wrecker had desirable mutations. The squad was named in honor of 99. The members of the squad also called themselves "The Bad Batch." Although it was rare, the squad occasionally worked with regular clone troopers, although Wrecker claimed their ship was always shot down when traveling with them.

Wrecker's unit, known as Clone Force 99 and nicknamed "The Bad Batch," was comprised of "defective" clones with desirable genetic mutations. In Wrecker's case, his mutations granted him incredible superhuman strength, strong enough to lift a wrecked LAAT gunship away to recover a wounded comrade trapped underneath.

Wrecker was loud and brash and prone to expressing his opinions in a very palpable manner. He had a deep passion for explosions and destroying enemy material, particularly battle droids, with his bare hands. His only major weakness was his fear of extreme heights. Despite having difficulties when working with regular clones, Wrecker and his squad came to respect Clone Captain Rex, even saluting the clone trooper officer after the Battle of Anaxes.
At present, we have completed part of the work, as you can see from the picture below, we are still continuously optimizing to achieve better results as shown in the product display diagram.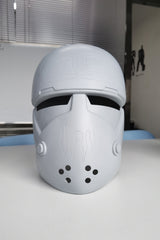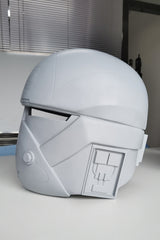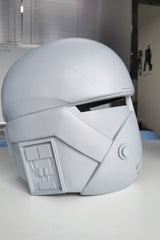 Star Wars: The Bad Batch Clone Force 99 Wrecker Cosplay Helmet (Pre-order)
Description: Wrecker
Detachment: The Bad Batch Clone Force 99
Context: Star Wars: The Bad Batch
🙃Material: Resin
🙃Head circumference: US 8 or more large+
🙃Package includes: A helmet
🙃Perfect for Halloween cosplay, role play, dress-up, theme party such as Star Wars: The Bad Batch Festival, Star Wars Celebration etc.

The Bad Batch Clone Force 99 Wrecker Helmet offer to star wars fans, star wars collector, the bad batch collector, Xcoser helmet fans etc.
If you wanna we made this please share this pre-order page with your friends Invite them to join the pre-sale order, in addition to speeding up our final production, you and your friends can also get an additional 10% discount extra. Please contact our Customer Service: info@xcoser.com 
🤖We will pre-order made this one! Now early birds price:  250 USD normal price will be 408 USD.🥰
Why order from us?
 
     



WHY ORDER FROM Xcoser?

- We have More 150+ professional Artisans
   With Full-Time Jobs in the world.
- 100% Satisfaction
- More than 600,000 Customers per year
   choice our brand "Xcoser"
- Free Shipping Worldwide * 
- 5+ Stars Customer Friendly Support + Live Chat
   plus Smile Quickly Responds
- Orders Shipping so express come your side
- 100% secure checkout process
- 100% Hand-made with Love
Size chart
Payment & Security
Your payment information is processed securely. We do not store credit card details nor have access to your credit card information.